Friend, Can You Spare Some Food?
Good News:  Our Food Pantry is once again open to the community on Fridays, from 10 a.m. until 12 p.m.. Click here for complete information about how we are doing things at this time. Outdoor pickups and other Covid-related precautions are being followed. If you are interested in volunteering, please email Chris  Here is the volunteer signup: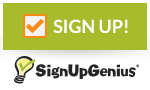 Ascension's food pantry is a part of our Community Concerns ministry, which is led by Chris Clark and Jessica Placas-Hengst. Keep an eye out for announcements of upcoming food drives, when volunteers accept donations from the trunks of contributors' cars.
During the past year, COVID and the difficult economy have left cupboards and food pantries bare — sometimes including Ascension's food pantry. If you are in a position to help, we ask you to consider the following suggestions the next time you go to the grocery store: Clip those coupons and don't forget to look online for them, too. What you save on your shopping you can share with others. Don't overlook those deals: "buy one, get one free" means you can buy one for yourself and get one free to give to the food pantry. Buy the store brand or look for special sales. If you are buying in bulk, maybe you don't need all that canned chicken, tuna or vegetables. Bring a few items to share – it won't go to waste! Help us keep the food pantry stocked year round! Together we can help feed our community!